ET CITY II
ET CITY II
Sprinkler system 80 l/50 bar
The water tanker is designed for transport of utility water – use of the superstructure according to the selected accessories – irrigation of greenery and ornamental vegetation with a frontal washing bar for pressure washing of the road, scraping of the frontal sweeping brush, hand pressure washing gun, nozzle for cleaning pipes "KRTEK", pumping to other devices e.g. sweepers, nozzle for humidifying the air "ozonation", possibility of connection to frontal irrigation arms or manual irrigation adapters and others according to special requirements….

The water tanker is designed for transporting utility water with the subsequent possibility of several types of deployment. Mounting is carried out on the loading surface of the hull, on the transoms instead of the tipper, on the container mezzanine or specially according to the customer's requirements. Connection of the hydraulics via two quick couplers. Dismantling is carried out by means of stand-off legs with screw jack. The 1,000 litre tank is made of yellow PE plastic. The hydraulically driven pumping unit is located at the rear of the frame, together with the control valves and a 20 m long self-retracting irrigation hose reel. Water distribution is then arranged at the front to a clamping plate for connection to the front attachment or directly from the body for rear adapters.
⇒ PE plastic tank, volume 1 000 l, ( H × W × D ) 1 020 mm × 1 504 mm × 2 520 mm, weight 290 kg
⇒ Pump 80/50 (flow rate 80 l/min at 50 bar)
⇒ 4 stop legs
⇒ Pressure washing gun
⇒ Water pumping from free source
⇒ Ozone nozzles
⇒ Quick couplers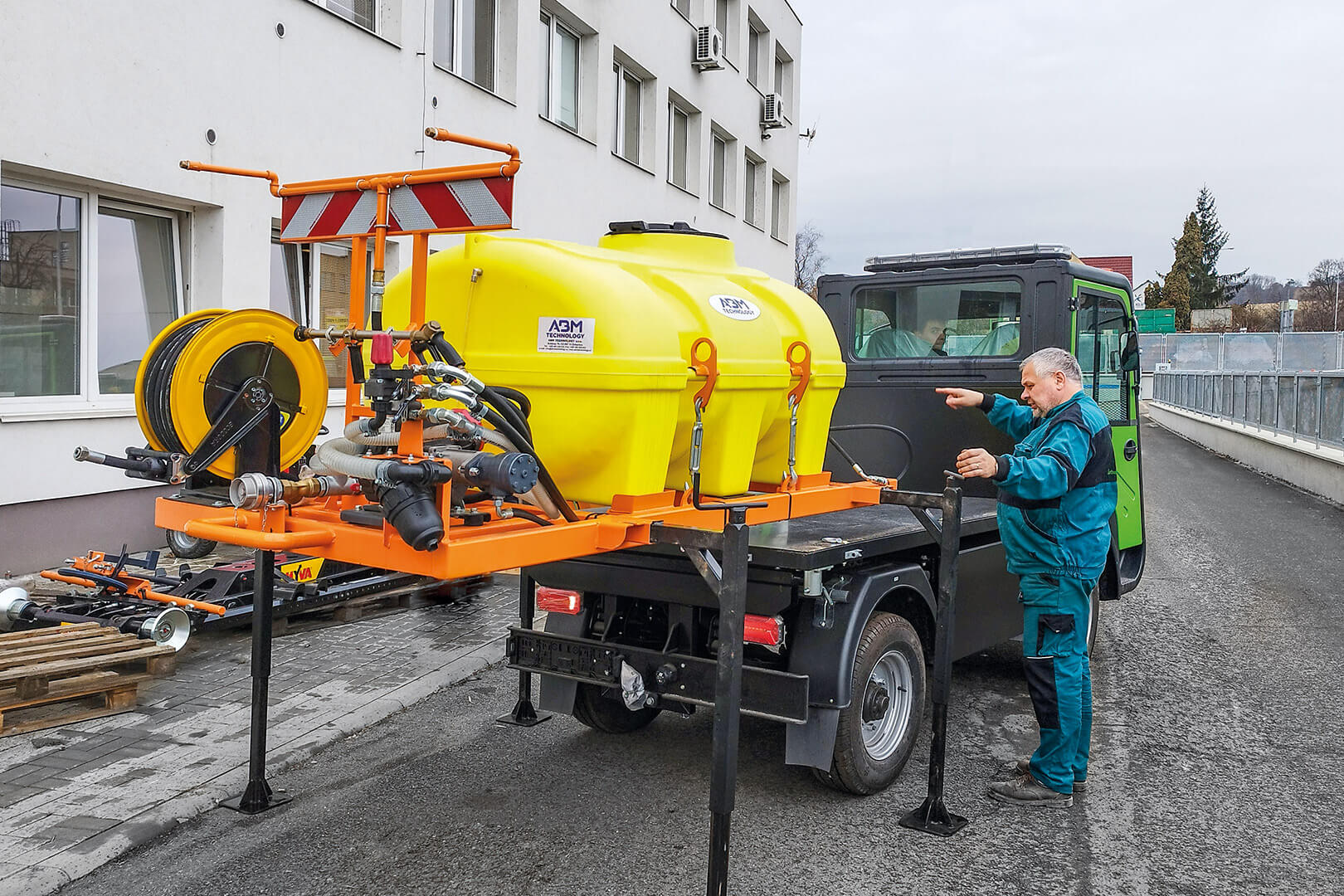 Eco-friendly handling and municipal technology for the 21st century
TPC INDUSTRY CZECH REPUBLIC a.s. is a traditional player in the field of production and sales of handling and municipal equipment.
Call +420 723 432 830 or contact us at